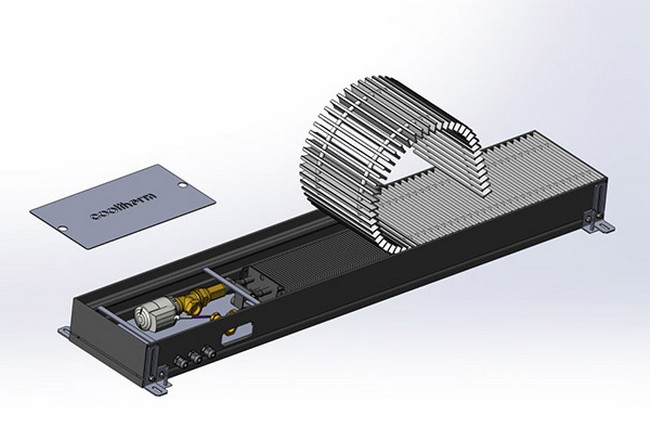 Benefits
One of the most functional;
Excellent energy conservation;
Intelligent control;
Aluminum grill
Ready for installation
Technical specifications
| | |
| --- | --- |
| Depth | 200 mm |
| Height | 80 mm |
| Length | 750-2450 mm |
| Manufacturer | Cooltherm |
| Country | Ukraine |
| Warranty | 10 years |
Operating principle
Cold air from the window surface as well as cooled room air are lowered to the convector channel. The air is warmed by the heat exchanger and rushes up. In-floor convectors located directly in front of the window or glazed facades create a kind of thermal curtain, which effectively prevents the penetration of cold air into the room.
General information
Floor convectors are used in rooms with panoramic glazing or with low-lying windows: in residential premises, conservatories, in office and administrative buildings, in showrooms and sales areas. Connections: 2 x int. threads. 1/2, fits all threaded connections, Vent valve: built-in.
Heat exchanger
Al-Cu plate type
Connecting thread 2 G1/2" internal
Service conditions
Max. operating temperature 110 C
Max. working pressure 1.6 MPa (16 bar)
Ambient conditions at a rate. T = +2 and +40 C humidity Rh = 20 and 70%
Contents of delivery
1 mounting depth option: 200 mm
1 mounting height option: 80 mm
8 mounting length options: 750-2450 mm
3 grid options: anodized aluminum, heat treated ash, tinted oak
Product Description
Forced convection with diameter fan. Durable, durable, aluminum case formed from a profile and black anodized coating. The heat exchanger consists of copper pipes and aluminum plates, is located in a box in special consoles and is provided with sound insulation. Standard: indoor connection (internal thread 1/2') and air valve. Parallel to the heat exchanger, the box is fitted with diameter fans that enhance the convection effect. The fan is in the protection housing. Silent, smoothly adjustable fan operation is carried out via analogue output for fan speed control (0 10 V). Servo control signal 24 V AC.
The simultaneous adjustment of the fan speed and the heat carrier mass flow rate by means of a thermal valve ensures hydraulically balanced pipeline network and energy-efficient operation with minimum temperature difference between the feed and return lines. As standard, a double-sided transverse grating of anodized aluminum or heat-treated wood is available. Delivery is possible with transport panel and in protective mounting packaging to avoid damage at the construction site and during installation.
Surface treatment
Standard powder coated box: matt black. The standard color of the cross grille is anodized aluminum painted according to the RAL palette or heat-treated ash in matt and glossy finishes.
Components
Programmable room thermostat.
Thermoelectric actuator 230 V AC.
Connection set consisting of: thermostatic valve and shut-off valve.